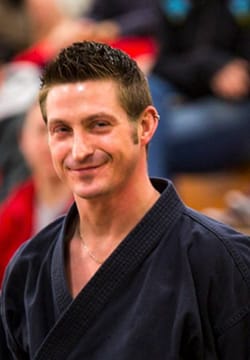 Tyler Henkel
Tyler Henkel is the owner and master instructor at Infinity Martial Arts – Waunakee. He is a 6th Degree Black Belt and started martial arts in 1993, and earned his Black Belt in 1997.
Tyler started teaching private lessons and assisting classes at 10 years old. By the time he got to high school, he was a certified instructor, teaching both kids karate as well as adults. He found his passion for teaching early in life and knew he would own his own school someday.
In 2003, Tyler went to pursue a degree in Business Administration at UW-Stevens Point, graduating in 2007. After that he continued to teach martial arts in the area. In January of 2016, he moved to the Madison area, joined the Infinity Martial Arts organization and opened a karate school of his own.
Mr. Henkel competed on the local and regional level in the beginning of his martial arts career and by the time he was a senior in high school was competing on the national / world level almost every month. He loved competing individually and had some great success with it. He found a real passion for competing in the team events. Tyler had a team of students from Sun Prairie and Waunakee that would travel and compete with him at the national tournaments, as well as demonstrating at local events.
Tyler couldn't be more excited to be in the Waunakee community and looks forward to providing the best martial arts instruction and guidance he can!