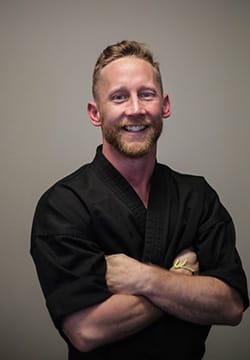 Mike Welch
Master Mike Welch is a 6th degree black belt with a very distinguished career. He began martial arts at age 9 as a Christmas present, earned his first degree black belt in 1996 and began teaching classes shortly thereafter. Mr. Welch and his father owned their first karate school when he was just 17 years old.

Mr. Welch is the founder of Infinity Martial Arts, opening the Middleton location in 2007. Since then, he has grown as a leader in the martial arts industry and has created a team of outstanding martial artists, instructors, and students. Together, they now have eight schools in the greater Madison Area.
Mr. Welch has been teaching karate for over 25 years. He has had the opportunity to learn martial arts, and the martial arts business from some of the best in the industry. He has dedicated his life to learning how to teach better, lead better, and how to better impact his students, families and community.
His role has grown from just an instructor and school owner to now being able to offer the opportunity for others to become great leaders, instructors and business owners. This is something that he is very proud of and excited about.
Mr. Welch is an accomplished forms, weapons and sparring competitor, having won national and world black belt titles at the Diamond Nationals and the U.S. Open, two of North America's largest and most prestigious tournaments.
Mr. Welch also sponsors a national competition team - Team Infinity. Since 2010, Team Infinity members (mostly kids) have racked up several world titles. Team Infinity is also the most "winningest" demo team in sport karate history, winning the U.S. Open Team Demo division five times. No other team has won that division that many times, let alone, consecutively.