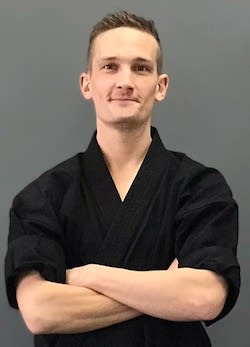 Luke Palmer
Luke Palmer is the chief instructor at Infinity Martial Arts – Oregon. He is currently a 5th Degree Black Belt, started his martial arts training in 1999 and began instructing in 2003.
When it comes to martial arts, Mr. Palmer loves it all. From teaching to competing, he works hard at everything he does. As an instructor, Luke enjoys watching his students succeed from all their efforts and learning.
Mr. Palmer says that martial arts has taught him discipline, respect, confidence and focus. But karate has also benefited his life in so many other ways, as he has spent some time in many countries around the world demonstrating martial arts. Mr. Palmer also spent two months in Thailand with his brother learning Muay Thai & no gi Jiu Jitsu.
Additionally, he has won many world titles as a member of Team Infinity's Demo Team.